ECGRA Mission Main Street Investments Supporting Economic Revitalization, Building Local Capacity
Posted on October 8th, 2019 at 12:00 PM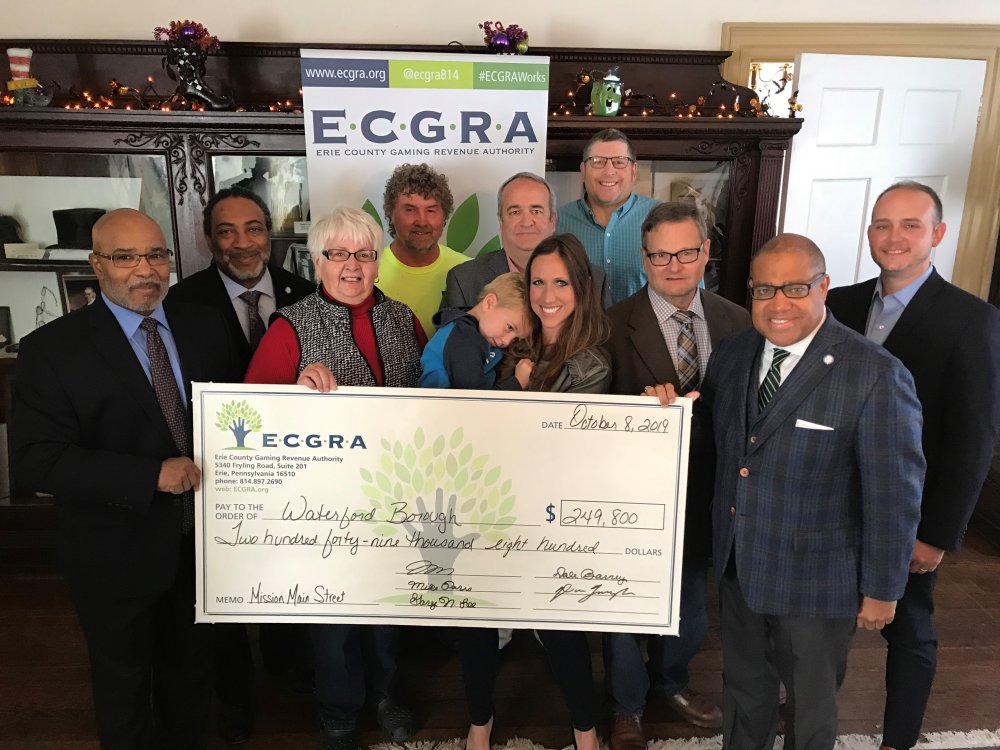 The Erie County Gaming Revenue Authority (ECGRA) announced more than $770,000 to support revitalization projects throughout the County as part of their 2019 Mission Main Street Grant Program at the Judson House in Waterford, PA today.
"Local share gaming revenue is making a transformational impact through reinvestment in Erie County's Main Streets and helping fuel local revitalization efforts through capacity building and matching funds," County Council Member Scott Rastatter said. "This work is creating a strategic impact beyond check presentations."
Rastatter was joined by County Councilperson Andre Horton, Erie County Director of Administration Gary Lee, Waterford Borough Council President Tim LaFlamme, Melinda Meyer of Preservation Erie and ECGRA officials to celebrate the ongoing reinvestment in the region.
During the event, ECGRA presented $150,000 to Preservation Erie to continue its work across Erie County, helping localities plan for and implement Main Street projects. Preservation Erie has successfully helped guide Waterford and Girard Boroughs through a capacity building phase - both have now successfully developed the internal capacity to independently secure this funding and continue their Main Street revitalization projects.
"The built landscape is a tangible expression of our richly layered history," said Melinda Meyer of Preservation Erie. "Through a series of initiatives and educational re-grant programs, Preservation Erie is striving to nurture the connectedness of residents to Erie County's historic places and build a culture of preservation."
As towns and communities across the region reinvest in local businesses, infrastructure, and neighborhoods, this new round of investments by ECGRA includes a nearly $250,000 Mission Main Street grant to the Waterford Borough to help preserve the architectural heritage of downtown Waterford.
"The Waterford Borough is excited to begin improvements as well as provide our own neighborhood grants with this funding," said Tim LaFlamme, Waterford Borough Council Preseident. "These projects will encourage private investment and long-term commitments to the community."
The Borough of Girard ($170,000) and Impact Corry ($202,400) were also awarded Mission Main Street grants.