ECGRA Extends Impact of Gaming Funds through Long-Term Investment in Lead Assets
Posted on December 11th, 2018 at 1:19 PM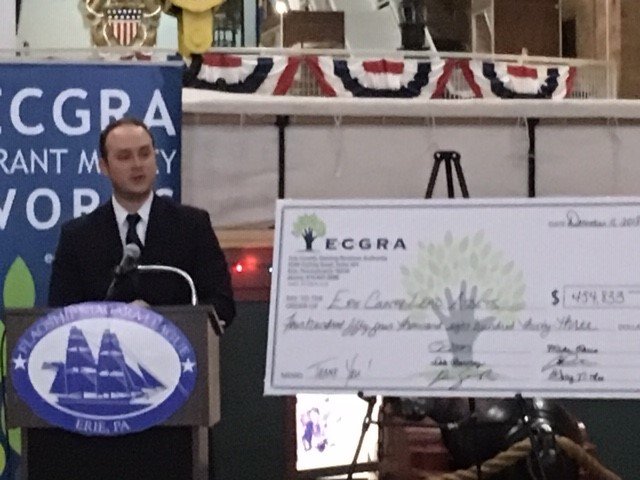 Erie County Gaming Revenue Authority (ECGRA) awarded $454,833 today to the nine Lead Assest organizations, further extending the long-term impact of gaming revenue in Erie County. Since 2011, ECGRA has made eight major cash investments in each of the nine organizations totaling $5,113,105.
"By design, our continued investment in Erie County's Lead Assets is an investment in the future of our community and its attractiveness to young people, business owners, and visitors," said Perry Wood, Executive Director, ECGRA. "Erie's vitality depends on the sustainability of these core organizations, each of them anchoring and elevating our quality of place. These Lead Assets help enhance economic development efforts, and they need to be sustained for our community to thrive."
In 2011, ECGRA designated and made its first investment in the Erie Counyy Lead Assets. These nine place-shaping culture-, heritage-, and entertainment-based nonprofits, essential to the continued vitality of the region are: Erie Art Museum, Erie Arts & Culture, Erie County Historical Society, Erie Philharmonic, Erie Playhouse, Erie Zoological Society, expERIEnce Children's Museum, Flagship Niagara League, and the Mercyhurst Institute for Arts & Culture.
"ECGRA is making a lasting impact by investing in an endowment that will benefit our community in perpetuity," said Erie Community Foundation President Mike Batchelor. "Grants to anchor community institutions from this endowment fuel our economy and help strengthen the capactiy of the fund, which will benefit Erie County for generations to come."
In 2012, ECGRA commited to sustain Lead Assets in perpetuity and create the Erie County Lead Assets Endowment, now valued at $13.2 million, held in trust at the Erie Community Foundation.
Additional Photos