ECGRA Expands Investment in Successful Erie Urban Entrepreneur Fund, Partners with Bridgeway Capital to Launch $5 Million Erie Inclusive Fund
Posted on December 3rd, 2018 at 4:36 PM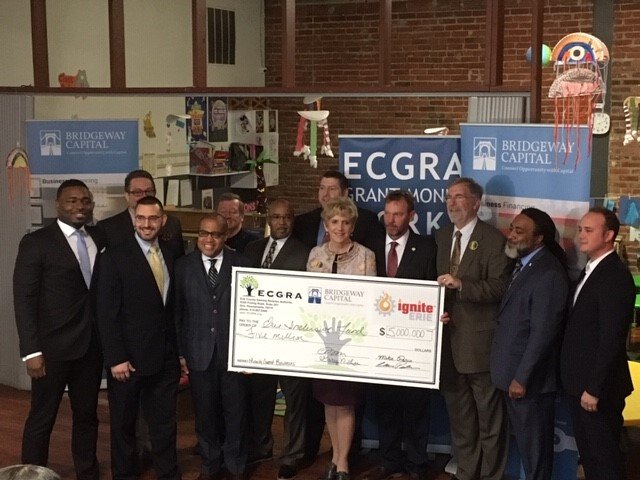 Erie County Gaming Revenue Authority (ECGRA) announced a ground-breaking investment in Erie County's minority communities today that will support an expansion of the successful Erie Urban Entrepreneur Program. State Senator Dan Laughlin, County Executive Kathy Dahlkemper, and Erie Mayor Joe Schember joined officials from ECGRA and Bridgeway Capital today to announce the Erie Inclusive Fund, a $5 million program to catalyze minority entrepreneurship in Erie County.
Financed by ECGRA and managed by Pittsburgh-based Bridgeway Capital, the Erie Inclusive Fund will invest at least $5 million in new loans in Erie County over the next three years, with a commitment to invest half, $2.5 million, in minority-owned businesses.
As part of the ECGRA investment, Bridgeway Capital will launch and Erie County Minority-owned Business Accelerator, tailoring individual growth plans and support system to ensure success for burgeoning businesses, while continuing to provide growth capital.
"Investing in small business growth is a smart way to extend ECGRA economic development dollars into minority communities across Erie County," said Pennsylvania Sate Senator Dan Laughlin. "Coupling start-up capital with an accelerator program shows Bridgeway Capital's long-term commitment to and vital role in our Erie County economic development ecosystem."
"Bridgeway understands the passion that drives entrepreneurs and the challenges they face," said Jim Jackson, Erie Office Director, Bridgeway Capital. "The Inclusive Erie Fund will create a strong ecosystem for minority entrepreneurship in Erie by providing patient, flexible capital paired with business accelerator services to help navigate entrepreneurship. We seek minority entrepreneurs to participate in the accelerator who want to use the power of business to make a difference in their community."
ECGRA views Erie County's inner-city as a regional force in the economy and recognizes that there is an unrealized potential of inner-city markets and entrepreneurs. To learn more about Erie Inclusive Fund at Bridgeway Capital, borrowers should call Jim Jackson at (814) 451-1172.
Additional Photos