ECGRA Continues Investing in Rural Erie County by Awarding the Borough of Girard $150,000 for Mission Main Street
Posted on October 6th, 2022 at 10:51 AM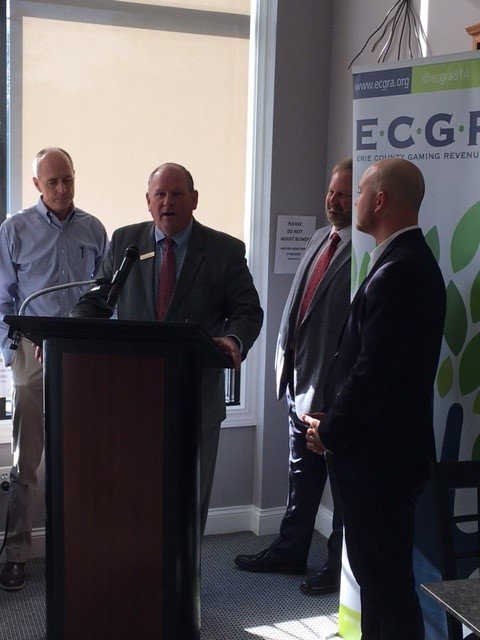 The Erie County Gaming Revenue Authority (ECGRA) held an event at The Crick Coffee House & Eatery on Main Street in Girard to announce a $150,000 investment in the Borough of Girard through the Mission Main Street grant program. This grant money will be used to help reinvigorate neighborhoods and main corridors, boost buy-local efforts, and combat blight.
Peter Burton, Mayor of Girard, spoke to the importance of having a funding stream available to help the smaller communities that are often overlooked. He praised ECGRA for their attentiveness and willingness to provide much-needed to funds to small towns to improve their appeal and attract new visitors.
George Drushel, President of the Board of Directors for Downtown Girard, talked about having several properties that have taken advantage of these funds in prior years and that there is much interest to utilize this round of funding.
John Buchna, Board member of Downtown Girard, was excited to learn that a substantial portion of the Main Street funding is coming from the American Rescue Plan Act (ARPA) funding. Girard's employers along Main Street were hit with hard times due to COVID, so he is relieved that there is money available to help them recover from this loss.
Main streets across the country have fallen into disrepair because of the diaspora of retail from business districts to malls. In communities where main streets are well-maintained, there is a sense of vibrancy and civic pride. Mission Main Street grants improve Erie County's primary commercial corridors - geographically distinct "main streets" that serve to incubate and host small businesses, events, historic structures, and the community's central parks. Main street revitalization is an economic and community development strategy that creates jobs, promotes tourism, impacts the region's economy, and improves surrounding neighborhoods.
Additional Photos