ECGRA and Ben Franklin Grow Innovation Fund for Entrepreneurs by $1,000,000
Posted on November 10th, 2016 at 10:00 AM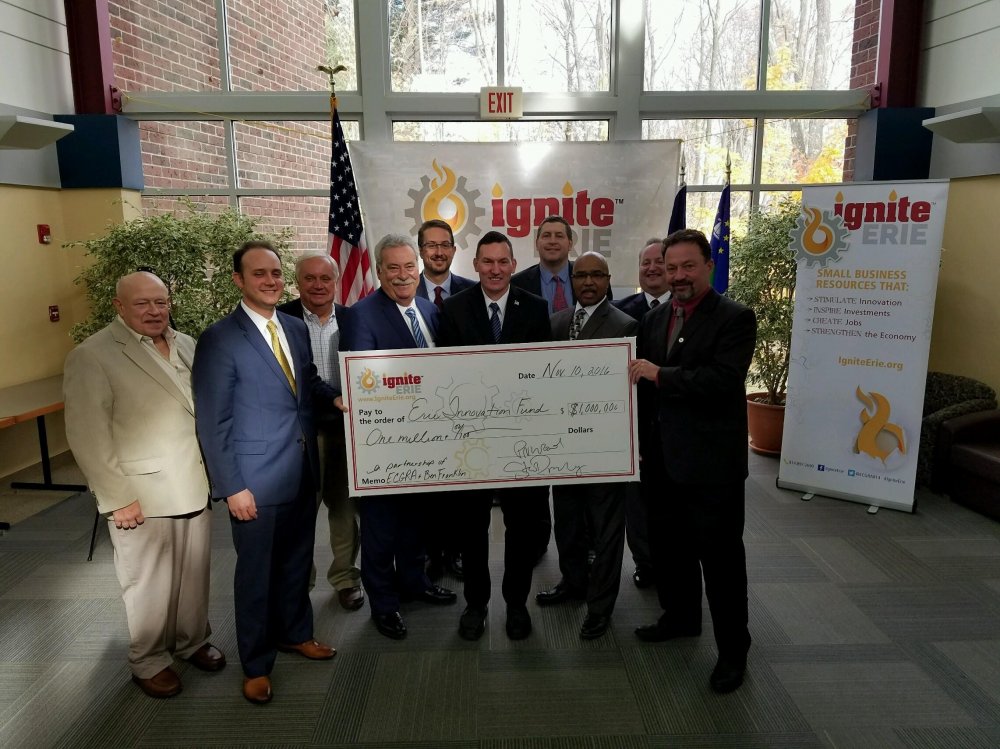 The Erie County Gaming Revenue Authority and Ben Franklin Technology Partners of Central and Northern PA are committing $500,000 each to re-launch the Erie Innovation Fund. The $1,000,000 is earmarked to help local startups and small manufacturers develop new products and grow their companies. Established by ECGRA and Ben Franklin as a public-private partnership, the Erie Innovation Fund provides local entrepreneurs and small, established manufacturers with access to capital to develop new products, start new tech-based companies, or gain access to a new market.
"The Erie Innovation Fund has helped several companies in various stages of product development begin to commercialize their efforts and hire additional employees—all without having to exert time and energy searching for capital outside of the Erie area," said President & CEO of Ben Franklin Technology Partners Stephen Brawley.
"While asset-based lending is plentiful in Erie, historically there has been a shortage of risk capital," Brawley added. "Since, most tech-startups have no assets to borrow against, access to risk capital, such as that available from the Erie Innovation Fund, is important to a community that wants to grow."
At a 10:00 a.m. press conference today at 5240 Knowledge Parkway in Erie, Erie Innovation Fund recipient Aaron Lewis, owner of Sphere Brakes LLC, spoke about his business and entrepreneurial journey, and encouraged others to take risks for their dreams.
Lewis, headquartered on West Ridge Road in Fairview, invented "sphere brakes," a competing product with disc and drum brakes now being widely received in the commercial vehicle brake market. New government legislation will soon require heavy duty manufacturers and suppliers to meet increased safety, stability, control, and fuel efficiency standards and Sphere Brakes LLC is the first company to develop a patented sphere brake system that addresses these concerns.
Lewis developed and patented the technology for sphere brakes while serving in Iraq in 2009 and 2010. After returning to the states, he served as company commander in the PA Army National Guard while attending graduate school at Penn State Behrend. He was working as business leader at GE Transportation in 2014 when he and his wife, Mandy, decided to risk it all for Lewis' invention and business goals.
Lewis said, "After deep introspection on what I'm truly passionate about, along with many challenging conversations with Mandy, I knew that if I continued down the path I was on, I would fail at everything and gain nothing. Over the course of a year, I retired from the military, quit GE, brought our first child into the world, and launched Sphere Brakes, LLC full time."
Lewis is currently finalizing deals with two commercial partners and the United State Department of Defense and has plans to keep his business in Erie.
Lewis' success is partially attributed to Ignite Erie™ partners ECGRA and Ben Franklin who took a chance on his big invention. Lewis has received $52,000 in small business investments from the Erie Innovation Fund for mid-stage research, development, and testing of the brake system.
Lewis said, "These funds came at a critical point in development. I knew the concept worked but I needed financial partners to take the product through field testing and to the market. Erie Innovation Fund gave me the support I needed to grow quickly and also helped me leverage additional investments."
The Erie Innovation Fund was launched in 2011 by ECGRA and Ben Franklin and was originally seeded with $1.2 million from ECGRA and matched by Ben Franklin for a total pool of $2.4 million. To date, 10 company projects have received an investment from the Erie Innovation Fund. Ben Franklin and the Erie Innovation Fund are key components to the success of ECGRA's $6 million economic development initiative, Ignite Erie, launched in 2013 to create jobs, renew inner-city businesses and neighborhoods, inspire partnerships that serve entrepreneurs, and leverage private investments.
ECGRA Executive Director Perry Wood commented, "Erie County is ripe with inventors and entrepreneurs just like Lewis who need funding to get their ideas off the ground and to market—our future depends on their success. We're proud to partner with Ben Franklin. They do an incredible job fostering local tech and startup talent and have a track record of making sounds investments to ignite our economy."
Local entrepreneurs interested in applying for an Erie Innovation Fund investment can call Ben Franklin's Erie office at 814-898-6650.
--apb--
About Ben Franklin Technology Partners Ben Franklin Technology Partners/CNP, an initiative of the Pennsylvania Department of Community and Economic Development and funded by the Ben Franklin Technology Development Authority, provides investment capital and operational assistance to emerging tech-based companies and small, existing manufacturers for the purpose of creating and retaining jobs in Pennsylvania. Contact the Erie office of Ben Franklin in Knowledge Park at 814-898-6650 or see our website at www.cnp.benfranklin.org.
About the Erie County Gaming Revenue Authority An impact investor, ECGRA's mission is to elevate Erie County by galvanizing nonprofits and small businesses toward economic and community development. Since February 2008, ECGRA has invested more than $42 million in Erie County. Learn more at www.ECGRA.org, www.IgniteErie.org, or call 814-897-2690. ECGRA PR CONTACT: Amanda Burlingham - 814-504-3037, aburlingham1@neo.rr.com