$250,000 Investment to Reinvigorate Clinton Street Business District, North East
Posted on May 6th, 2019 at 12:10 PM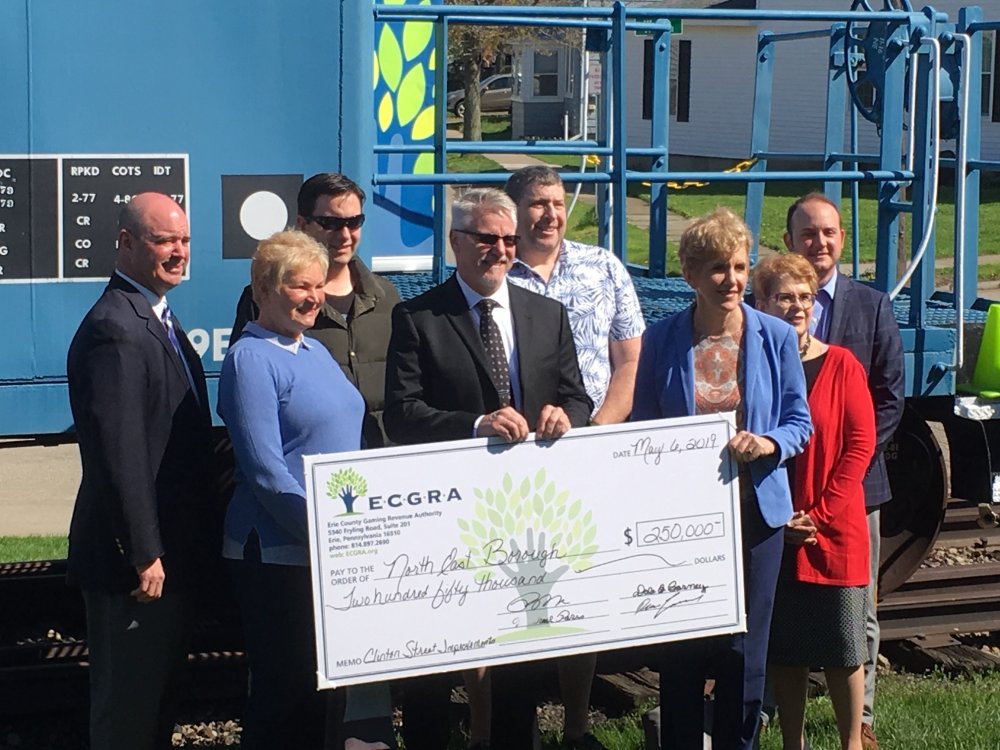 Atop the back of a locomotive built in Erie in 1945 and permanently stationed at the Lakeshore Railway Historical Society and Museum in North East, County Executive Kathy Dahlkemper and ECGRA officials announced an investment of $250,000 in the Borough of North East to help reinvigorate and reconnect the Clinton Business District to downtown North East. ECGRA has set aside $2.5 million in grants over the next three years for Main Street revitalization.
"At the heart of every community across Erie County is a main street - a place to shop, meet, eat, relax, and connect," Kathy Dahlkemper said. "As our main streets grow, so do our neighborhoods and our local economies. North East Borough and North East Township have proven that a good plan, collaboration, and smart investments can help to breathe new life back into these once-bustling corridors."
Today's announcement marks the beginning of the sixth round of Mission Main Street Grants. Mission Main Street grantees are required to match ECGRA's $1.2 million of local share gaming revenue investments, extending the reach of these valuable economic development dollars to $2.4 million revitalizing main streets across Erie County in the past six years.
"Reconnecting North East's charming Main Street to the 'Original Main Street' is a wise economic development strategy," said Perry Wood, Executive Director, ECGRA. "As the Main Street experience expands, North East will be able to continue redevelopment efforts in partnership with local businesses, and capitalize on available economic development dollars."
The Mission Main Street Grant announced today will provide direct assistance to the business community through facade improvements, energy and safety improvements, access to web-based business solutions, streetscape amenities, traffic calming techniques, pedestrian travelways, Route 89 Gateway enhancements, and revised resident/customer parking strategies.