21 ECGRA Community Assets Granted $151,640 Countywide
Posted on September 8th, 2016 at 11:37 AM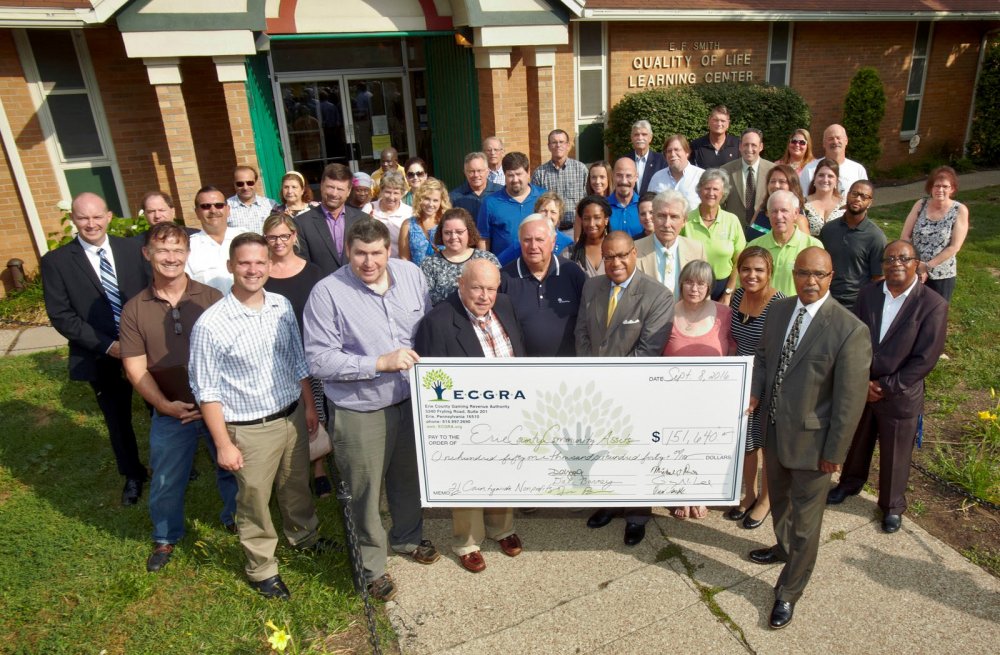 Community Assets Grants are targeted to organizations that increase tourism, enhance places, and/or develop culture, and this year, more than half of those organizations also specialize in building up local youth. At the press conference, representatives from three of the 21 funded Community Assets spoke about how their programming impacts Erie's upcoming generation:
Gary Horton, CEO of the Urban Erie Community Development Corporation, shared his expectations of needs met through the Tuskegee Airmen Exhibit & Dance for Peace Program
Kerry Corbin, executive director of Common Grounds Youth Center in North East, discussed the outcomes of the 10-year program
Acting Chief Don Dacus and Sherriff John Loomis, co-chairmen of the Erie Police Athletic League, explained the value of establishing officer/student relationships at Pfeifer Burleigh.
ECGRA Executive Director Perry Wood said, "For years, ECGRA Community Assets have been the drivers and caretakers of some of Erie's most cherished historical sites, cultural programs, and family activities. Many of our 2017 grantees have multiplied their economic impact: They're fostering Erie's next generation of leaders."
Community Assets Grants is an annual grant program administered by the Erie County Gaming Revenue Authority. Applications are reviewed by the ECGRA Regional Assets Committee and grants are awarded by the ECGRA board of directors. Any 501c3 organization headquartered in Erie County meeting the grant requirements is eligible to apply for up to $15,000. For full grant guidelines or information about upcoming grants, visit ECGRA.org.
# # #
An impact investor, ECGRA's mission is to elevate Erie County by galvanizing nonprofits and small business toward economic and community development. Since February 2008, ECGRA has invested more than $38 million in Erie County. Learn more at ECGRA.org or call 814-897-2690. ECGRA PR CONTACT: Amanda Burlingham, 814-504-3037, aburlingham1@neo.rr.com